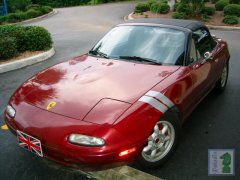 Tallahassee - July 2003
Craftsman Aluminum Floor Jack
September 27, 2003
RudeDude opened a topic on Miata.net about this aluminum floor jack from Sears. I had been looking at the one Harbor Freight sells ($130 to $160 depending on the day of the week) for some time, but had an uneasy feeling in my gut about it--I read of a couple of people who had had trouble with the head casting breaking, and of some hydraulic problems, apparently with some early production units. HF had acknowledged the problem to some extent with exchanges and refunds, and the newer production runs seemed to be OK--but I still had reservations.

Sears had this Craftsman unit for $179.99, less 10% if you opened a Sears charge account, so I went for it--$161.99.


(click for a larger image)

Down all the way (3-3/4")


(click for a larger image)

Up all the way (18-1/2")


(click for a larger image)

Pump plunger w/ roller


(click for a larger image)

U-Joint valve operation

Notes:
The Craftsman jack is similar in design to the Harbor Freight unit, however it's fit and finish are definitely a step or two above that of the HF jack. The specifications for the two jacks are shown below--the major differences are the Craftsman's 2 ton capacity (vs. 1-1/2 tons for the HF unit), and the Craftsman's 4-1/8" longer length. Before you ask, it is made in China--what the Heck isn't these days.

The good news is that it's nearly entirely made from welded plate aluminum (the exceptions being the jack end casting for the pump handle, the lift head pivot casting, and the pump's cast iron base). On the HF jack the body side plates and the entire primary lift arm (and maybe the lift arm's control straps) appear to be cast aluminum (high quality sand-castings, maybe die-cast, but definitely NOT high-pressure die-cast) --this makes the integrity of these components entirely dependent upon the skills of the foundry. The precision cut from plate side members and welded lift arm of the Craftsman unit are costlier to produce, however their ultimate capacity is far more predictable than that of low cost castings--this in itself may account for the Craftsman unit's additional 1,000 lb. capacity.

The jack has a Quick-Lift feature that raises the saddle to the chassis in one or two pumps of the handle, it then goes into jacking mode where 6 or 7 full strokes will lift the load to maximum height. The required pumping effort is somewhat high, like many faster lift action jacks, but not unreasonably so. A nice touch is a parts tray at the rear of the jack body, with a magnetic rubber lining. The lowering action is quite smooth and controllable, 1/2 turn of the handle will lower the car very gently and opening the valve more does not let it drop excessively fast.

This is NOT a "race jack" (if you're looking for super fast lowering).

Specification

Craftsman (# 00950239000)

Harbor Freight (# 3941)
Rated Capacity
4,000 lbs.
3,000 lbs.
Length
27-3/4"
23-5/8"
Width (widest point)
12-1/8"
11-13/16"
Height (highest point)
6-1/4"
6-1/8"
Lifting Range
3-3/4" to 18-1/2"
3-1/2" to 17-1/2"
Weight
42.5 lbs.
35.4 lbs.
Handle Length
44-1/2"
47-1/4"

For years I've been telling anyone that would listen that "If you do what your gut says you might be wrong, but if you don't you probably will be wrong...I'd rather go for maybe being wrong, than probably being wrong." This is a good practical example of the philosophy working out. Like many Harbor Freight products their jack is a good value, particularly when it's on sale--in fact I almost bought one several times--but when you see the HF and Craftsman jacks "side-by-side" deciding whether or not to cough up that other $20-$40 is not a difficult decision!

This is a quality unit easily worth the $40 to $50 premium, over the Harbor Freight jack, that it's MSRP of $199.99 commands. On sale at $179.99 it's a great deal-- the extra 10% off for climbing in bed with the Sears credit card devil is just icing on the cake!
Return/Goto My Miata Home Page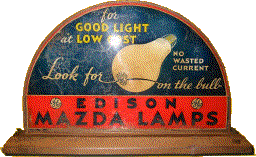 Persian mythology gave the name Ahura Mazda to the god of light...

cliffyk@paladinmicro.com